The CLC has today published the second version of the National Retrofit Strategy, a twenty-year blueprint for how the construction industry can work with Government to retrofit the UK's 28 million existing homes. Following open consultation with the construction industry, the strategy now has over 50 supporter organisations, including IMA.
The CLC has also written to the Secretary of State for Business, Energy and Industrial Strategy, enclosing the strategy, and calling on the Government to adopt its themes within the content and implementation of the Heat and Buildings Strategy. A copy of the letter is available here.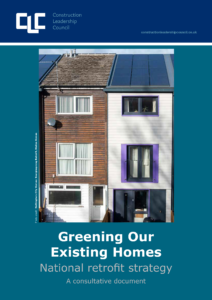 Simon Storer of IMA said "With growing support from the wider construction sector, the CLC is providing a realistic action plan to upgrade the UK's housing stock, reduce energy usage and cut CO2. Improving insulation and other fabric first solutions will be essential if our homes to reach the energy performance standard needed for a net zero carbon world. The government is being given a great opportunity to work with the industry and make the lasting changes that are needed for our built environment. We've had too many false dawns over the years, this time they must grasp the chance with both hands and show the leadership and commitment that is essential for a successful nation-wide retrofit programme."
Mark Reynolds, Deputy Chair of the Construction Leadership Council, said: "Our homes account for 20% of UK carbon emissions and 35% of energy use. To deliver on the Prime Minister's commitment to reduce carbon emissions by 78% by 2035, the construction industry must work with the Government and take action on reducing the environmental impact of our buildings. As an integral part of the CLC's Co2nstruct Zero campaign, I am pleased that the National Retrofit Strategy is steadily gaining supporters ahead of United Nations Climate Change Conference in November."

Brian Berry, Chair of the CLC Domestic RMI Working Group said: "The National Retrofit Strategy is a blueprint for making green home upgrades accessible to all British households. This will help make our homes more comfortable and cheaper to run. This strategy also has the potential to unlock 100,000 new jobs and save 2.53Mt of carbon dioxide in the first four years, in return for £5.3 billion of Government investment. This will support the levelling-up agenda, helping us to build back better and greener."
You can view the Retrofit Strategy here.
___
Contact Insulation Manufacturers Associations for comments or questions on any of the news article shared.
Alternatively, you can become a member or login here.
Back to News