IMA Chief Executive Simon Storer gives a view on what's happened since COP 26.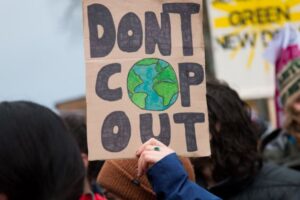 Eclipsed by the war in Ukraine and rising energy prices, the COP26 climate conference last November seems largely forgotten but with the latest UN Intergovernmental Panel on Climate Change (IPCC) report saying urgent action is needed to combat climate change, it begs the question as to why are we still breaking our climate promises. The lack of coherent action since the conference is a sad indictment of how serious the government is in helping everyone from big businesses to householders reduce their carbon footprint.
In March, startling heatwaves at both of Earth's poles was yet another stark warning of the disruption in Earth's climate systems with many scientists warning that the events unfolding were 'historic', 'unprecedented' and 'dramatic'. These ice caps will continue to melt, but there is still time to push for positive change. While COP26 in Glasgow put the UK on the global stage as potential climate change pioneers, it was all about the headlines with little substance. The problem hasn't gone away, but the coverage has. Just 12 months ago, government enshrined into UK law an ambitious target to reduce emissions by 78% by 2036 on 1990 levels. Where does this leave the built environment, a sector which is responsible for almost 50 percent carbon emissions?
We can't make change overnight, we need to put in place programmes that can develop over time. But that seems to be a complete anathema to the way the government works. Balancing aspiration with reality is always an enormous challenge when dealing with political initiatives; we only have to look at the failed Green Homes Grant retrofit scheme to see how it can go perilously wrong.
Combine this with households across the UK facing rocketing energy bill rises of 54% from April and many millions of households facing fuel poverty, government must ramp up their investment in energy saving measures to combat the crisis.
It is well accepted that insulation is the single most important aspect of the specification of energy efficiency measures into a building and can help the UK's housing stock adapt to the impacts of a changing climate.
If homes and buildings are to become more energy efficient, good insulation is fundamental to offsetting increasing energy costs. With a clear emphasis on the design of a building's envelope, the versatility and benefits of PIR and PUR insulation come into their own when professionally and correctly installed, whether that be for new buildings or refurbishment projects. Once installed the product will continue to perform across the lifetime of the building.
The government must find a way that is both persuasive and attractive for the refurbishment of the existing housing stock to happen and with a financial model that ensures this commitment becomes a reality. Too many ideas have failed in the past because the investment models could not be made to work.
Despite the challenges we face due to global uncertainty, many insulation manufacturers, from individual companies to trade bodies, are fully committed to adopting sustainable design and installation methods to help deliver better-performing buildings and help the UK achieve the ambitions of our net-zero climate change targets. UN experts warn it may be 'now or never' to make the change. Construction has an important role to play, but who will make it happen?
For more information about IMA or to download best practice guides visit www.insulationmanufacturers.org.uk
Back to News