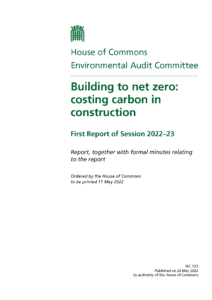 The launch today of the Environment Audit Committee's report, 'Building to net zero: costing carbon in construction' outlines a stark warning that the UK is not doing nearly enough to achieve its net zero carbon target by 2050.
We all understand how important the energy performance of the built environment is in achieving this target and IMA welcomes the recognition in the EAC report that we must begin measuring the whole-life embodied carbon of the products needed to build and refurbish our buildings.
The report stresses the importance of in-use performance of materials alongside their manufacturing process and end-of-life arrangements, which has always been an essential ingredient in overall energy efficiency of a building – the realisation that in construction it is not just the product, but also the energy saving value a product brings to the building over its whole lifetime that counts.
The recent IMA blog, How Seriously Do We Take Climate Change in the UK, mirrors many of the findings in this report, including the need for a better and more robust inspection and compliance regime, the introduction of higher energy performance standards, a greater emphasis on skills and training, and implementing a long-term Retrofit Strategy which will bring back confidence in the sector and allow for proper planning and implementation.
Ultimately the government must develop a financial model that enables this to succeed. In the past many schemes have failed because the financial return did not work and unless that circle of failure can be broken, we are in danger of understanding exactly what needs to be done, but no way of making it happen. Time is running out.
Back to News